There are many hair loss solutions available on the market today, we pride ourselves on offering the market leading solutions that are kind to your hair and scalp. It is important that a consultation is performed to diagnose your condition before embarking on any hair loss solution, using an incorrect treatment can cause the hair loss to accelerate and other health issues.
Cosmetic Hair Fibres, these are very clever and work by blending with your own hair to cover the visible scalp, a really good option and easy to apply at home too.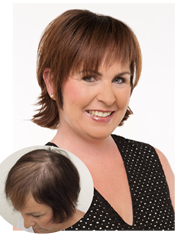 Hair Integrations, Great for hair loss to the top of the head to cover the thinning or loss.  Eva can recommend you to a network of specially trained hairdressers that can apply this solution.  It feels and looks just like your own hair and more importantly does not damage either the scalp or your own hair.
Hair pieces, Eva has access to the very latest designs, all vetted to ensure that there is no damage to either your own hair or scalp.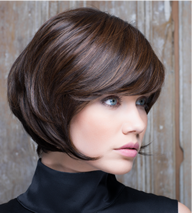 Ready to Wear Wigs, Eva works with some of the UK's top wig suppliers and can bring you the most innovative, comfortable, natural looking wigs available on the market today.  Eva specialises in working with people facing chemotherapy and hair loss, providing the ideal scalp cleansers, wigs, and after treatment clinics to ensure that your hair and scalp remain in tip top condition, throughout the period of treatment and beyond.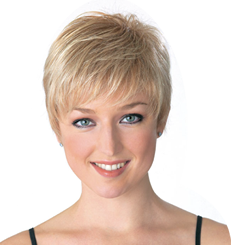 Custom Made Wigs, for people suffering from long term, scarring hair loss Eva can provide custom made wigs from Master Wig Makers with over 30 years' experience.  Hair can be matched exactly to your requirements, as can the base.  Working with a network of specialist wig hairdressers, Eva can ensure that your custom made wig or hair piece will be ultra-comfortable to wear with a natural look and feel that will ensure that only you know that you are wearing either a full wig or hair piece.
Minoxidil, the latest research shows that there is an 80% possibility that minoxidil can slow down, or even stop hair loss in men and women.  Minoxidil works by helping the blood flow to the follicles and increasing follicular size and hair shaft diameter.  Eva is able to recommend varying strengths of minoxidil to suit the needs of each individual patient. Note: Minoxidil should only be used under the guidance of a Trichologist.
Hair Transplants, Eva works closely with the Maitland Hair Restoration Clinic as well as members of the International Society of Hair Restoration Surgery, and is well aware of the latest transplant options that are available.  Eva can explain your choices, including assessing your existing donor hair, the intended new style that you wish to create, your age, outline costs and time off work.  Eva will also discuss the long term expectations from hair transplant surgery and will ensure that she matches you with the best Specialist for your individual transplant.